TORONTO -- Top-ranked Roger Federer was knocked out of the Rogers Cup with a 2-6, 7-5, 6-4 loss to France's Gilles Simon in a second-round match Wednesday night.
Federer, who won the tournament in 2004 and '06, was playing his first match since losing the Wimbeldon final in five sets to Spain's Rafael Nadal.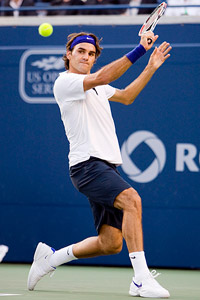 AP Photo/Frank Gunn
Roger Federer won the Rogers Cup in 2004 and '06 and reached the final last year.
"That's just unbelievable for me to win against him," Simon said.
Federer, who became the first top seed to lose in his first match here since Lleyton Hewitt in 2002, finished second here last year to Serbia's Novak Djokovic.
"The problem was my game today," Federer said.
It was the biggest surprise of a soggy day at the tournament that saw play disrupted for nearly six hours by thundershowers.
Second-seeded Rafael Nadal looks like the favorite now, though he didn't look stellar in his first match Wednesday, struggling early on before ousting Ottawa-born qualifer Jesse Levine 6-4, 6-2.
There were several other notable upsets on the day. Croatian Marin Cilic ousted 12th-seeded Spaniard Tommy Robredo 6-3, 6-4; Sweden's Robin Soderling defeated 13th seed Fernando Verdasco of Spain 6-4, 6-7 (4), 6-4; Argentina's Jose Acasuso beat 14th-seeded Fernando Gonzalez of Chile 6-3, 3-6, 6-3; and Russian Igor Andreev got past 16th-seeded Czech Tomas Berdych 6-4, 3-6, 6-4.
Of course, nothing compares to eliminating Federer.
"For sure, this is my best victory," said Simon, ranked 22nd in the world. "I don't think that you win so many times against the No. 1 in the world. It happens maybe in the career of a player maybe two, three times if you are lucky."
Tennis scores
Need the scores from any match played in this or any other tournament? Results
The match started off smoothly for Federer until Simon broke his serve to go up 4-2 in the second set. Federer returned the favor and held serve to draw to 4-4 and then 5-5, but Simon held serve in the 11th game and broke Federer in the 12th to take the set.
"As the match went on I struggled a little bit to put the forehands away," Federer said. "He's a good baseliner. We saw that today. He moves well. He's deceiving because he's kind of thin and tall but moves really well for his height, you know. He flicks a lot of balls with his backhand as well, so when you come in you can't see where he plays."
Suddenly, Federer's side of the bracket looks wide open.
Fourth-seeded Nikolay Davydenko is the highest seed remaining there. He defeated Germany's Tommy Haas 6-3, 7-6 (6) on Wednesday. Seventh-seeded James Blake was also a winner, beating Sweden's Jonas Bjorkman 1-6, 6-1, 6-2.
On the other side, there's defending champion Djokovic, as well as fifth-seeded Spaniard David Ferrer, eighth-seeded Andy Murray of Britain, and ninth-seded Swiss Stanislas Wawrinka -- who won their matches Wednesday -- and of course, Nadal.
The Spaniard seemed to have the support of the fans at the beginning of his match against Levine. One fan waved a Spanish flag with "Vamos Rafa" scrawled across it.
Some support swayed over to Levine's side as the plucky 20-year-old took an early lead and played Nadal tough.
"I think they really got behind me a lot of times, and that was helpful," said Levine, who moved to Florida when he was 13 and represents the U.S. in international play. "There was a lot of Rafa supporters out there. I was trying to hold my own and hoping to get some support behind me, and I felt like there was."
Levine said he was rolling until he stopped to think about whom he was playing, and where.
"I think I was in that zone, not sure really where I was, and then I kind of came to my senses and realized that I'm playing Nadal on center court," he said. "Obviously, nerves got a little bit of me there."
Levine took advantage of an uncharacteristically sluggish Nadal early. He broke the Wimbledon champion in the fourth game before taking a 4-1 lead in the first set. But then he failed to capitalize on a break-point chance in the next game. Up 4-3, he missed another break point, and Nadal took over from there.
"Once he got that break back I think that he really got settled into the match," Levine said. "I came out kind of flying, and that's what I wanted to do, but I didn't want to let him back in like I did, obviously."
Still, Nadal was impressed by Levine, who's ranked No. 123 in the world, though he did admit to having never seen him play before their match.
"He's young, so he can be a very good player," Nadal said. "Today wasn't my best match obviously, but I didn't feel very bad after the beginning. If I don't play better, I'm going to have a lot of problems."
Copyright 2008 by The Associated Press