NEW YORK -- Paula Radcliffe glanced over her shoulder to see the competition lined up in single file behind her.
The world record holder was so dominant in gusty conditions at the New York City Marathon that she served in the dual roles of leader and windbreaker and still breezed to a comfortable victory Sunday, her second straight and third overall.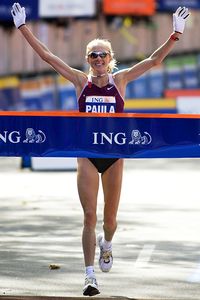 Don Emmert/AFP/Getty Images
With her victory Sunday, Paula Radcliffe has won eight of 10 marathons she has started -- all but her two Olympics.
Radcliffe didn't need a dramatic finish as in her previous two wins -- that was saved for the men's race, in which Marilson Gomes dos Santos of Brazil blew past Abderrahim Goumri with about a mile to go.
A 58-year-old Brazilian runner died Sunday night, several hours after he crossed the finish line and complained to race officials he felt ill. Carlos Jose Gomes of Sao Paulo died at Lennox Hill hospital according to police. The cause of death was not immediately released. At least two other runners fell ill during the race and had to be hospitalized.
Radcliffe led nearly the entire way, as none of her rivals seemed to want to brave the elements.
"It was like, 'Come on, we've got the whole road,' " she said with a laugh.
On a cool, sunny day, 38,377 runners started the race. Radcliffe became the second woman to win the event three times, pulling away from Ludmila Petrova in the 22nd mile. The Brit finished in two hours, 23 minutes, 56 seconds.
Crossing the line behind Radcliffe were a veteran proving she can still keep up with younger runners and a marathon rookie showing she can race with the best in the world.
The 40-year-old Petrova was second in 2:25:43, eight years after she won the NYC Marathon. She became the oldest woman to finish in the top two since Priscilla Welch of Great Britain won in 1987 at the age of 42. The Russian also set a Masters world record for runners 40 and over, breaking Welch's mark set in London in 1987.
Kara Goucher took third in 2:25:53, making her the first American to reach the podium since Anne Marie Letko was third in 1994. She posted the fastest time in a marathon debut by an American woman, breaking Deena Kastor's mark set in this race in 2001.
Goucher's coach has long believed that she's a natural for the marathon. He should know -- Alberto Salazar won three straight NYC Marathons from 1980-82.
It was an emotional day for Goucher, running in the city where she was born and where her father was killed by a drunk driver just before she turned 4.
'A Race Like No Other'

Liz Robbins' book from HarperCollins highlights a history of inspiring stories from the New York City Marathon. Read an excerpt here.
Liz Robbins
"I was so excited to run here and sad that it's over," she said. "It was awesome."
Gomes has a special affection for New York, where he has won his only two major marathon titles. He was a surprise winner in 2006 before finishing eighth last year.
Goumri pulled away from Gomes in the 22nd mile and appeared headed to his elusive first major marathon title. Instead, the Moroccan was the runner-up for the second straight year, his fourth near-miss in 19 months.
Gomes won in 2:08:43. Goumri finished in 2:09:07, and Daniel Rono of Kenya was third in 2:11:22 in his NYC Marathon debut.
"I have seen many marathons that are decided at the last minute, so you never lose hope," Gomes said. "You have to keep trying, and I kept pushing even though it was six, seven seconds behind."
Goumri was left again to lament miscues along the 26.2-mile course. He said he missed the chance to hydrate several times.
Goumri had emerged as a pre-race favorite with defending champ Martin Lel of Kenya sidelined by a foot injury. When Goumri took the lead, he thought, "It's my day."
"But when it's finishing a marathon, I just turned back and I saw Marilson come back," he said. "I said, 'I think he's going to win today.' "
The NYC Marathon was again the site of a stirring comeback for Radcliffe, who's only a third of the way to Grete Waitz's remarkable record of nine titles. As in 2004, she rebounded from a disappointing Olympic performance with a victory. Last year, she won her first marathon since the birth of her daughter less than 10 months earlier.
Radcliffe has won eight of the 10 marathons she has started -- all but her two Olympics, when she was thwarted by health problems both times.
"It does make it frustrating because you think, 'Why can I get it right all the time in New York and I can't get it right there?' " Radcliffe said. "But sometimes you have to take what life deals you."
Irina Mikitenko of Germany won the $500,000 World Marathon Majors title after Gete Wami and Catherine Ndereba failed to clinch the prize Sunday. Wami, the 2007 NYC Marathon runner-up, would have won the money for the second straight year if she finished in the top two, but she was sixth.
Ndereba needed to place first to have a chance, but she was fifth.
A vote by World Marathon Majors race directors broke a tie between Mikitenko and Wami. Lel had already clinched the men's title.
Copyright 2008 by The Associated Press