By Bonnie D. Ford
ESPN.com
NEW YORK -- Lance Armstrong says he is not returning to professional cycling because of any unfinished business from his previous exit.
In an exclusive interview with ESPN.com, the seven-time Tour de France winner said he considered his retirement on top to have been ideal and maintained his comeback is not an attempt to address questions about whether he raced clean. While he clearly relishes the thought of competition again, Armstrong said he will judge his success only partly based on his cycling results and mostly by how well it meshes with a campaign to marshall more resources for a global war on cancer.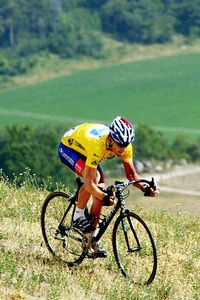 JOEL SAGET/AFP/Getty Images
Lance Armstrong rode through a hayfield during one memorable stage of his 2003 Tour win.
"What happened from 1992 to 2005 is done," he said. "I'm not trying to rewrite it at all. This feels like a whole other career to me. And this is not all about winning another Tour de France. Could I do it? Would I like to do it? Maybe yes, maybe no. "If you win an eighth Tour and have the Livestrong International Summit in Paris and nobody shows up and no commitments are made and we don't effect change in terms of the global burden, then I've wasted everybody's time. However, if you don't do the Tour, or you do the Tour and you get fourth, and the summit is a smashing success and people participate, and world leaders make commitments that really go towards advancing this issue, then that's a success. "This has nothing to do with trying to address August of 2005," Armstrong said, referring to the controversy that erupted two weeks after his final Tour victory, when re-testing of samples from the 1999 race conducted by French anti-doping authorities allegedly showed the presence of the blood booster erythropoietin (EPO). Armstrong disputed those findings, which were not considered positive tests because there were no backup samples to confirm the results. Given the multiple layers of anti-doping controls cyclists undergo, Armstrong said his arrangement with venerable anti-doping researcher Dr. Don Catlin may not be absolutely "necessary," but added, "I think Don can take it to a new level." Catlin will be paid by Armstrong's Astana team to independently collect and analyze the cyclist's samples in addition to the team's already established outside monitoring program. Armstrong has promised to post results online to demonstrate that he is clean. Armstrong's first scheduled race with Kazakhstan-financed, Luxembourg-based Astana is the week-long Tour Down Under in south Australia in January. He's eager to compete but said he is far from certain that his 37-year-old body will withstand the rigors of a three-week stage race. He has committed to riding in next year's Tour of Italy but is reserving a decision on the Tour de France. "There's a lot of question marks there," he said. "I feel strong, I feel like I have experience, I feel like I have a good team. In my heart of hearts, I'm not sure that it's that easy. "I can go out and go on hard rides with strong guys for four, five, six hours. But that's different than going out with 200 guys who're fighting for a wheel in a crosswind." Armstrong said he regrets that his new teammates Levi Leipheimer and Alberto Contador, the 2007 Tour champion who won the Tours of Italy and Spain this year, were blindsided by news of his comeback in September. Had the news not leaked prematurely, Armstrong said the two would have been advised of his plans by team director Johan Bruyneel beforehand. He dismissed the prospect of potential conflicts with the other team leaders. "This is not a sensitive issue for me," Armstrong said. "It's cut and dried. I'm on a team, I know how cycling works. The strongest man, we ride for. No hard feelings. There's no reason to get dramatic, for anybody. Play the game just like it's been played for a hundred years."
Bonnie D. Ford covers tennis and Olympic sports for ESPN.com.
Original here